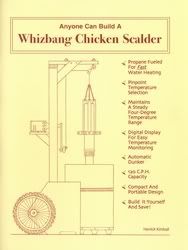 Description:
8.5" x 11", Paperback, 65 pages, 82 illustrations
Availability:
In Stock
Price:
$23.95
CLICK HERE FOR A PRINT & MAIL-IN ORDER FORM
My chicken scalder plan-book tells you how to build a deluxe chicken scalder. The Whizbang scalder allows you to easily set the precise water temperature you want. An electronic temperature controller will then automatically maintain a 4-degree temperature range. A digital temperature display provides for easy temperature monitoring. The insulated water tank holds water temperature remarkably well, thus conserving energy. With the automatic dunker feature, you can scald three chickens at once which translates to 120 chicken-per-hour scalding capacity. The Whizbang chicken scalder has wheels and is easily transported. A portable propane tank (like used on a gas grill) fuels the scalder for many hours and is convenient to use.
You can get all the details about the Whizbang scalder, and see lots of pictures, at thilink:
Introducing My Deluxe Automatic Whizbang Chicken Scalder
CLICK HERE TO ORDER THIS BOOK
=============
Whizbang Books Home Page
=============