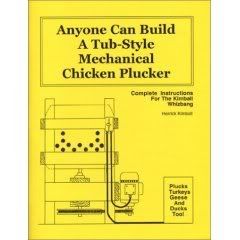 Description:
8.5" x 11", Paperback, 66 pages, 60 illustrations
Availibility:
In Stock
Price:
$19.95 (postage paid)
New! You can now purchase a pdf download of this book. Click Here for details.
This book tells you
everything
you need to know to easily build your own
Whizbang Poultry Plucker
. A homemade Whizbang plucker will pluck all the feathers off a chicken in about fifteen seconds. It will pluck two or three chickens at the same time just about as fast. All you do is turn the machine on, drop the scalded birds into a tub, and watch the show. The birds tumble around as rubber plucker fingers flail the feathers off--even the pin feathers. Nothing could be easier or more fun.
For more information about the Whizbang Plucker, please check out my new
Whizbang Plucker Web Site
And if you're new to butchering chickens, make sure to read my online blog photo-tutorial-essay,
How To Butcher A Chicken
==========
Whizbang Books Home Page
==========