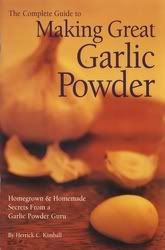 Description:
6" x 9" Paperback, 38 pages, 14 illustrations
nn
Availability:
This out-of-print book that originally sold for $6.95 is now available again as an inexpensive ($3.95) pdf file that you can easily download.
CLICK HERE
to go to the order page.
If you love garlic but have never experienced the remarkable flavor of homemade garlic powder, you're in for a delightful surprise. No storebought powder can compare to that which you've made yourself. This book takes a fresh look at the third most popular food seasoning in the world (next to salt & pepper). You'll learn the sad truth about all those store-bought garlic powders and why their flavor is so lackluster compared to homemade. You'll learn my garlic growing techniques (organic, of course) and exactly how to make your own garlic powder. Your homemade garlic powder will be a family favorite. And it makes great gifts too!
"Herrick, this little book on making garlic powder is so well written that I would encourage you to reprint. Until I found this book of yours I had no idea what to do with those garlic bulbs I had which I did not want to plant because they were too small or whatever. My research led me to the book. I've since referred that book to others. Of course I have no idea if you've been the recipient of my referrals or not but I tell people it's the definitive book on making powder ... even as simple as the process is, your instructions would be very helpful to anyone interested in making their own powder."




D.W.




New Hampshire
Here's Another How-To Option
I also have an inexpensive ($1.50) pdf download titled How To Make Your Own Garlic Powder (click for details). The tutorial, with 16 photos, focuses on showing and explaining my in-the-kitchen, step-by-step process for transforming garlic bulbs into delectable powder. The garlic powder book explains how to make garlic powder, but it does not have any photographs, so this tutorial serves as a very useful addendum to the book.
And if you would like to learn all about growing garlic as a home business, check out this Whizbang Books resource:
Garlic Powder Profits: The Herrick's Homegrown Story
==========
==========