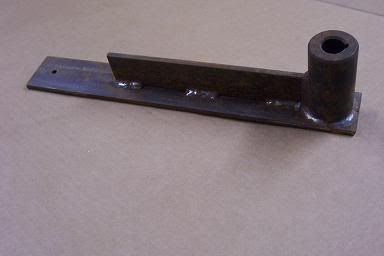 Description:
Dunker Arm
Availibility:
SOLD OUT as of 5/30/11
Price:
$50.00 (postage paid)
My book,
Anyone Can Build a Whizbang Chicken Scalder
, tells you where to get all the different parts you'll need to complete the project. If you are going to build the scalder with the auto-dunker attachment, you will need a dunker arm (pictured above). The arm is described in detail on page 53 of the book. It is the only component of the scalder that requires welding.
A lot of people, myself included, do not weld, so I had a bunch of dunker arms fabricated by a local welding shop. The flat stock is 1/4" steel (early copies of the scalder book specified 1/8" flat steel and that was a misprint). These arms have some surface oxidation but they are very well made. I have a limited supply and will probably not have more made after they are sold.
============
Whizbang Books Home Page
============