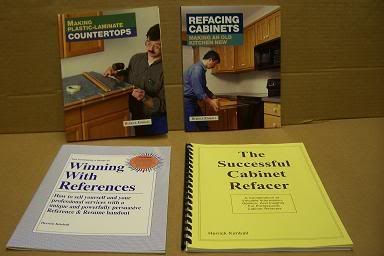 I worked in the building trades for 20+ years before changing my occupation in 1999. I did everything from jacking up old barns, laying concrete block, and roofing, to finishing drywall, doing interior trim-work, and making custom furniture. Over time, my specialty evolved into kitchen & bathroom remodeling. I've remodeled hundreds of kitchens & bathrooms.
Back in 1988 I submitted an article to
Fine Homebuilding
magazine and it was accepted. I discovered I had a natural talent for writing and I pursued it. Several more magazine articles followed. Then I wrote three books for
The Taunton Press
(two are pictured above).
In 1997 I created and published a cabinet refacing trade journal, in newsletter format, called
Professional Kitchen Craftsman
. I got a lot of subscribers and the little publication achieved a decent measure of critical success. Unfortunately, it was also a total business failure (but a valuable learning experience).
Most of my writing "legacy" from those days can be found in the four books pictured above. Only one (
Refacing Cabinets
) is still in print and easily purchased elsewhere. The other three are available here, while the limited supply lasts. Here are the details....
Making Plastic Laminate Countertops
.
This book is a complete A to Z guide to working with plastic laminate (a.k.a., Formica). It explains how to fabricate new, square-edge countertops, resurface old tops, install custom edges, properly attach backsplashes, make awesome seams and "impossible" fits. All my techniques are geared for the small-shop fabricator using basic woodworking and laminate tools. Technical reps at Formica and Wilsonart praised this book when it came out. Reader response was nothing but positive. You simply will not find a more informative book on this subject.
Nevertheless, it turns out that the target audience for such information is very slim. Sales were disappointing (in the eyes of the publisher) and Taunton Press discontinued the book after a few years. I bought the whole inventory of remaining new copies. There are not many left. When they are gone, they will be gone for good. There are no plans to reprint this book.
Note: Because this book is so rare and I have only a few remaining copies, I am charging more than the list price. If you want to learn this craft, $29.95 (postage paid) is a small price to pay.
Description:
Paperback, 164 pages, 197 photos, 39 illustrations
Item Availability:
In Stock
Price:
$29.95 (postage paid)
==========
Refacing Cabinets:
Making an Old Kitchen New
If you think cabinet refacing is nothing more than a cheap and hokey kitchen remodeling "cover up," this Taunton Press book will change your mind. The high-end cabinet refacing techniques and professional insider tricks I explain in this book will enable you to do such a quality job that everyone will think you bought all new cabinetry (Really!). A properly refaced kitchen will look as beautiful and age as
gracefully as any new cabinets. Better yet, you can save thousands with refacing.
Note: You need not be a professional woodworker to do a remarkable job of refacing your old kitchen cabinets. My book tells you how to do the job with basic skills and tools.
Description:
Paperback, 160 pages, 130 photos, 50 illustrations
Item Availibility:
In Stock
Price:
$19.95 (postage paid)
==========
The Successful Cabinet Refacer
As I've already mentioned, I did a lot of differnet things when I worked in the building trades. But
nothing
I did was as easy, satisfying, and
profitable
as refacing cabinets. I often entertain the thought of getting back into the business. But I digress....
This book is a compilation of articles and letters gleaned from early issues of

Professional Kitchen Craftsman

(PKC) newsletter. With input from 40 professional refacers from across the United States, The Successful Cabinet Refacer contains 50 articles (30 reprinted from PKC and 20 new ones that never made it into the newsletter), 15 informative feedback letters, and lots of my "Random Thoughts," which was a regular column in PKC.
If you are a new cabinet refacer or just thinking of getting into this lucrative niche market, The Successful Cabinet Refacer will cut years off the learning curve. It introduces you to the language, the history, the major players, the business aspects, and the advanced craft skills of professional cabinet refacing. Even if you are an established refacer with years of experience behind you, you're going to enjoy the reading and benefit greatly from the vast amount of professional insights, professional opinions, and professional advice that I have compiled in The Successful Cabinet Refacer.
Note: This book was originally published in 1999. It is a low-budget production and some of the information, especially that related to pricing, is dated. But the majority of information is still pertinent and well worth the cost of the book.
Description:
8.5" x 11" comb-bound, 74 pages
Availability:
This book is now out of Stock. I hope to make it available as an inexpensive PDF file soon.
Price:
$21.95
==========
Winning With References: How to Sell Yourself and Your Professional Services With a Well-Written and Powerfully Persuasive Reference & Resume Handout
If you are in any kind of a service business, the most incredibly powerful sales and marketing tool you can have is a Reference & Resume handout. I know this from my own experience. This book tells how to easily make and strategically use your own highly effective R&R handout, using my own as the example. The information in this book is proven. Follow the directions and you can't help but land more of the jobs you want at the price you need to make a decent living.
Note: This book is another of my early, amateur book productions. Buy it for appearance and you will be disappointed. Buy it for the money-making idea it contains and you won't be disappointed.
Description:
8.5" x 11", paperback, 47 pages
Availability:
Out of Stock. Will not be reprinted.
Price:
$9.95 (postage paid)
==========
Whizbang Books Home Page
==========